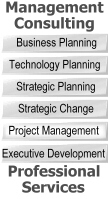 We have provided leadership and management support on a wide variety of small, medium, and large-scale business and technology projects from cradle to grave, and throughout the project life cycle: definition, planning, start-up, execution, and closure. Throughout each of these phases we work closely with our clients to produce the deliverables needed to support the following project management functions:


| | |
| --- | --- |
| Quality Management | Communication Management |
| Scope Management | Issue Management |
| Resource Management | Financial Management |
| Schedule Management | Contract Management |
| Risk Management | Release Management |
Many larger conglomerate consulting companies have methodologies that they adhere to stringently. At Promitus Solutions, we believe in maintaining a practical resiliency in our approach. We favour striking a tailored balance between two extremes: ad hoc, inconsistent work and verbose, "cookie-cutter" styled deliverables. Our philosophy is to work closely with our clients, to understand their needs, to meet their projectís cost, schedule, and quality requisites, and to strike an optimum balance between chaos and bureaucracy.
Our project management services range from providing part-time support for small-scale initiatives involving several people all the way to orchestrating and assembling a project office for a multi-million dollar program that can involve a team of over one hundred people, with dozens of key players and stakeholders. While we adapt, we consistently observe the fundamental project management principles in keeping with industry leading doctrines such as those advocated by the Project Management Institute Body Of Knowledge (PM BOK), the Gartner Group Publications , the International Standards Organization quality standards (ISO 9000), and the Capability Maturity Model from the Software Engineering Institute (SEI) of Carnegie-Mellon University.

Copyright © Promitus Solutions Ltd. 2008. All Rights Reserved.